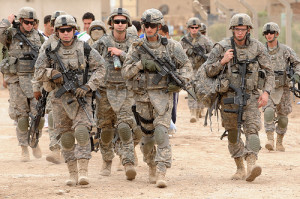 Members in both parties of the U.S. Senate and House, along with aspiring Republican Presidential candidate Jeb (Act of Love) Bush wish nothing more than to push through amnesty prior to the 2016 election, if not 2014.  In the DC bubble, the narrative is that the Republican Party must take swift action to gain political support of illegals residing in the United States.  Democrats are ecstatic. They realize that achieving legal residency for an estimated 11+ million people living in the U.S., in conjunction with the millions sure to follow via chain migration, secures a voting majority that will overwhelmingly benefit Democrats for generations to come.
Although the comprehensive immigration bill is stalled in the House, this hasn't stopped some members in Congress from crafting piecemeal legislation to provide amnesty for those living here illegally.
California Congressman Jeff Denham (R-CA) has proposed legislation that uses the U.S. military as a vehicle for amnesty. H.R. 2377 or the ENLIST Act: "Authorizes the enlistment in the armed forces of aliens unlawfully present in the United States on December 31, 2011, who: (1) have been continuously present in the United States since such date; (2) were younger than 15 years of age when they initially entered the United States; and (3) are otherwise eligible for original enlistment in a regular component of the Army, Navy, Air Force, Marine Corps, or Coast Guard."   This would require the Secretary of Homeland Security to adjust the status (make legal) of these illegal DREAMers to "lawful permanent resident" LPR status.
There are numerous problems with this plan.  Denham's bill circumvents current Federal law, offers dangerous incentives to the young and presents a security risk.  Has anyone asked what, if anything, we would know about the background of these new servicemen and women?  They have lived, as often stated, "in the shadows." We have little to no information about their lives prior to arriving here.  Were they involved in illegal activity?  Additionally, Congress will be tasking every branch of the service with major logistical challenges; acclimating people from many countries, cultures and languages to technical jobs as they learn English and hopefully, some of the historical background required of those becoming naturalized U.S. citizens.
For several years the military has met recruiting and retention goals.  This begs the question, will we be giving enlistment and placement preference to newly legalized young adults over natural born citizens?  Many natural born Americans choose the military as a way to prepare for a career and learn valuable skills.  The ENLIST plan will foster animosity and conflict among service members. This is a valid concern as the military becomes a testing ground for social engineers, unconcerned with the primary mission of military readiness.
People respond to incentives.  The rumors of expedited citizenship has already started a massive influx of young people across the border at extraordinary risk. Heritage explains, "According to the recent testimony of Gil Kerlikowske, head of Customs and Border Protection, the number of unaccompanied minors crossing the
border has increased from 6,000 in FY 2011 to 60,000 in FY 2014. The incentive is so strong, he explained,that some parents are even "willing to support vile criminal networks" that can aid in the crossing and
"place their precious children in harm's way."
This proposed legislation also circumvents current federal law which provides a path for qualified legal immigrants to join the military.  By the way, who speaks for all those around the world that have followed the rules to come into this country through the legal immigration process?  I've never heard a valid response to this question. Where is the fairness?
The ENLIST bill is one of several plans being crafted in the bowels of Congress to legalize millions of people living here illegally. In every instance, we must acknowledge a country deeply in debt, $18 trillion and growing. Much of the debt is entitlement programs that stand to increase as more people access the benefits in the coming months and years.  We must let Congress know the voices and money in Washington do not represent the view of most Americans.