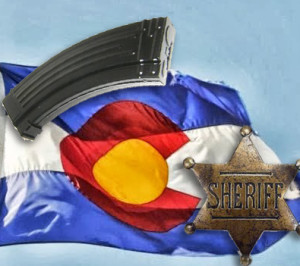 Colorado voters reminded state legislators on Tuesday September 10 that they serve at the will and pleasure of the people they represent.  People of the high country were not thrilled on July 1 when new restrictions went into effect on gun magazine capacity as well as universal background checks and laws making it illegal to lend someone your gun (This includes allowing another person to hold or shoot your gun).  God forbid a soldier leaves his gun at home with a wife for her safety – this would be illegal.  Private transfers to a family member, friend or anyone else are also  illegal. In addition, legislators ignored the voices of citizens, opponents and even county law enforcement before passing a law that weakens Second Amendment protections and only serves the ego of liberal politicians.
In response to this legislative stupidity, the people of Colorado successfully recalled two key proponents, Senate President John Morse and State Senator Angela Giron.   Ms. Giron immediately attributed the defeat to…voter suppression.  What?  It's hard to argue with irrational assertions which is why they're used frequently by the left.
Mayor Bloomberg and the Brady Campaign outspent the activists of Colorado and the NRA by a 5-to-1 margin, yet common sense, vocal sheriffs and the grassroots prevailed; people understood that their legislators passed another unenforceable gun law with no input from the people who must enforce the laws.  Many citizens were sick of benign sounding, feel good gun laws that make criminals of law-abiding citizens and once again, do nothing to reduce gun crimes by real criminals.  As of July 1, 2013, gun magazines may no longer hold that 16th bullet.  Everybody knows that bullet, and none of the previous, creates mayhem.  
Progressives misjudged the people of the Mountain West. Regardless of their differing ideologies on a host of social issues, they share a strong yearning for freedom and aversion to tone-deaf politicians.  Republican, Democrat, libertarian or independent, the 2nd Amendment holds sway in the hearts and minds of Colorado citizens.  The recall vote was not partisan as Rep. Giron's district is 47 percent Democrat to 23 percent Republican. People realized that neither Giron or Morse heard the opinion of their constituents on the legislation they passed and voters of late are fed up with tyranny from their state legislators.  Colorado – and every other state – has witnessed plenty of elitist behavior over the last several years from both the President and Congress.  The recall provided a perfectly timed outlet to release the pent-up frustration of a muzzled electorate.
The recall was aided by the firm stance against this legislation of 54 County Sheriffs.  The Sheriffs joined a coalition of groups and individuals in a lawsuit filed on May 17, 2013 in District Court against the new gun law. The coalition included the NRA, National Shooting Sports Federation, Magpul Industries and disabled individuals.  All exerted influence, but sheriffs are directly elected, deeply connected to residents in their counties and generally more popular than other politicians in the state.  Their views on second amendment related issues carry serious weight with the voting public.
Change comes slower than we like, but a trend is emerging.  People are becoming more active in civic affairs and they are making it clear that their elected officials must be advocates for protecting and expanding freedom. This is a welcome change of direction.