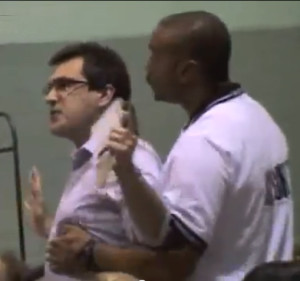 A parent recently dared to stand and question a local school district panel explaining/promoting, "Common Core" standards in Baltimore County, MD.  If you watch the video, it is clear this man was physically removed and arrested for attempting to ask a question of the officials about implementation of common core in his school district.  The Towson, Maryland parent, Robert Small was initially charged with second degree assault by Baltimore County for incidental contact with the officer attempting to forcibly remove him. Fortunately for Mr. Small, the county dropped the charges, but only after the video displayed heavy-handed treatment by the off-duty officer.  The prosecutor admits no wrongdoing and without the national spotlight, Mr. Small might still be facing charges.  The intimidation factor achieved the desired effect. Parents will be reluctant to stand and debate or question officials going forward.
The chilling effect extends beyond parents muzzled at public meetings.  Senators Dianne Feinstein and Charles "Chuck" Schumer have proposed S.987 an Amendment to narrow the definition of journalism and give privileges to only people she considers 'real reporters.'  Feinstein asks, "Should this privilege apply to anyone?"  The Senator from California calls the First Amendment a "privilege."  Bloggers and citizen journalists will be silenced, yet reporters at the New York Times and on MSNBC will continue to present the truth.
Private citizens observing, taping and reporting on their elected officials are critical to protecting the liberties guaranteed in the Bill of Rights. Thousands of individual citizen journalists, websites, bloggers and organizations like Mediatrackers and WatchdogWire, are providing most of the oversight and transparency holding tyranny at bay.  The U.S. would be considerably less free if information was still controlled by traditional news outlets.
Government scandals have been stacking up like planes over O'Hare on a Friday afternoon and one of the most notable scandals involved citizens attempting to follow the tax laws of the IRS.  Civic-minded citizens seeking to educate and engage in political discourse filed for their 501C4 status only to have bureaucrats at the IRS hold up their applications for extra scrutiny, often spanning several years.  Officials discouraged citizens trying to restore responsible government in their communities and in DC.  If not for a critical mass of online reporting and social media interaction, this scandal and many others would never see the light of day.
Facts and fiction mingle seamlessly on the web and throughout social media.  Teaching our children, and frankly, many adults to vet information online, and sadly, in many major news outlets is a challenge that will require education and patience.  But these tools offer unprecedented freedom and shine a spotlight on those that wish to control their fellow man.   Your voice (and smart phone video) present the only obstacle to would be rulers.   Elitist lawmakers in Washington will say government must legislate to protect the people from a digital world of fraud and lies.  Let's be honest – they're more concerned with people exposing the truth.  Our voice, our camera and guns protect Americans from the evils that persist across much of the planet.  It's our responsibility to become adept at using all these tools to defend our freedom.